Hardwood Flooring in Rexburg, ID
If you are looking to upgrade to hardwood floors, refinish existing wood floors, or search for the best flooring for new construction, look no further than Showcase Interiors Flooring America. We are your local experts in all things hardwood flooring. With a variety of durable hardwood brands and styles, you can create virtually any interior design. Additionally, we offer professional hardwood flooring installations with trusted local Idaho installers. Visit our hardwood flooring showroom in Rexburg, ID, to start browsing our hardwood selections today!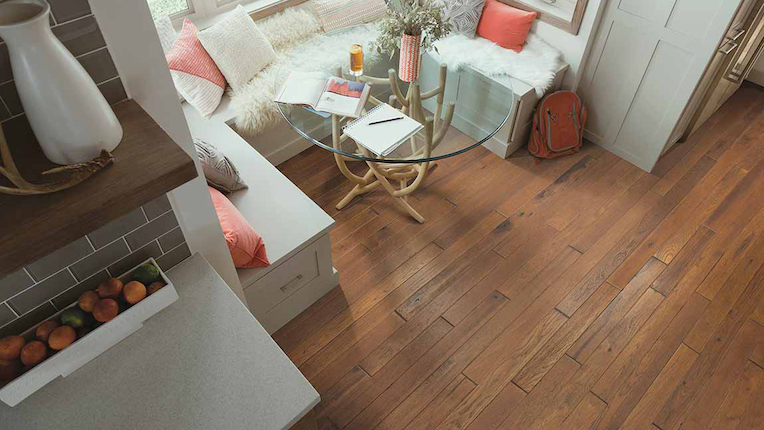 Types of Hardwood Flooring at Our Local Flooring Store
At Showcase Interiors, we strive to offer a variety of hardwood flooring styles to meet our customers' diverse needs. You can fully customize your look by choosing a wood species, cut, plank size, tone, stain, texture, and finish. From the soft light hues of pine to the rich and classic look of mahogany, you can enjoy any wood style with the the following types of hardwood flooring:
Engineered Hardwood Flooring
Engineered wood takes all the authentic beauty of solid wood and optimizes its performance. Engineered wood planks are composed of a sturdy plywood core and topped with a thin veneer of real solid wood. This way, the planks are less susceptible to warping due to moisture. We highly recommend engineered wood if you'd like hardwood installed in rooms the kitchen, entryway, or laundry room. Enjoy the same stylish species and solid wood feel with peace of mind when you choose engineered wood flooring.
Solid Hardwood Flooring
Solid wood floors offer a timeless elegance that is always a smart investment to increase the value of your home. No matter which wood species you choose, the solid wood planks look beautiful and can last a lifetime with proper care. Additionally, these floors can be sanded down and refinished over their lifespan to refresh the finish or switch up the look. Performing well in high-traffic areas, solid wood flooring is popular in living rooms, hallways, bedrooms, and more. However solid wood floors may warp or crack if there are significant changes in the air's moisture levels, or if it is exposed to water for long periods of time. That's why we do not recommend solid wood floors in rooms like kitchens, bathrooms, and basements.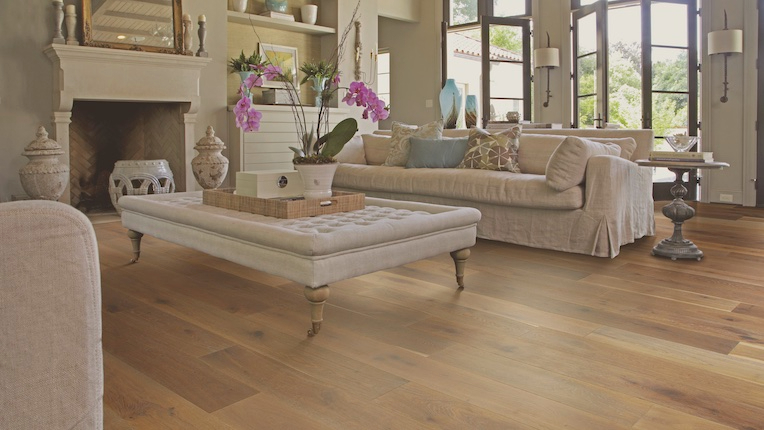 The Many Advantages of Hardwood Flooring
Our Rexburg customers seek hardwood flooring for many benefits in both form and function. We make a point to carry industry-leading hardwood brands, including Downs, Floorcraft, Mohawk, and more. This way you can trust you are getting the best quality and style no matter which selection you make. When considering hardwood flooring, it's important to understand all the features and benefits, including:
Easy Cleaning and Care: Hardwood is simple to maintain with a regular care routine—all it takes is sweeping, dry mopping, and promptly wiping up spills.
Lasting Durability: Hardwood is one of the longest-lasting flooring solutions on the market, perfect for high-traffic areas of the home.
Timeless Beauty: No matter which hardwood style you choose, you can rest assured it will continue to look elegant with any interior decor.
Improves Home Value: This flooring material elevates the value of your home, making it a wise investment if you ever plan to resell.
Eco-Friendly: A natural flooring material, hardwood is eco-friendly and improves overall air quality within your home.
Hardwood Flooring Selection Made Easy
With so many choices, it may feel overwhelming to shop on your own. At Showcase Interiors, we are your partners in success for all things hardwood flooring renovation. When you step into our Rexburg showroom, we take the time to get to know you. Once we've discussed your project ideas, we will guide you toward the best hardwood options. Our flooring experts are truly here to serve you. Our attentive customer service along with our quality products is what makes us the Rexburg area's leading hardwood flooring store
Professional Hardwood Flooring Installations
Once you've selected a hardwood floor that suits your tastes, it's time for installation. Our store will help schedule a professional hardwood flooring installation with our local contractors. These talented flooring experts have years of experience installing a variety of hardwood floors. Once your planks have been properly acclimated to each room, we properly prepare the subfloor for a level surface. Then, we hand-select each plank to ensure the graining patterns are just right. We artfully install wood planks in a straight pattern, diagonal pattern, herringbone pattern, chevron pattern, checkerboard pattern, and more.
With your project's lasting success as our top priority, you can rest assured your hardwood installation is backed by our Adore Your Floor Guarantee. This promises you will love your new floors. In the unlikely event you find yourself dissatisfied, we will replace or fix your flooring at no extra cost to you. Count on our reliable installers for a swift, efficient, and quality installation for enduring beauty!
Contact us today to learn more about our hardwood flooring options! We are proud to serve Rexburg, Idaho, and the surrounding Madison County communities.