Laminate Flooring in Rexburg, ID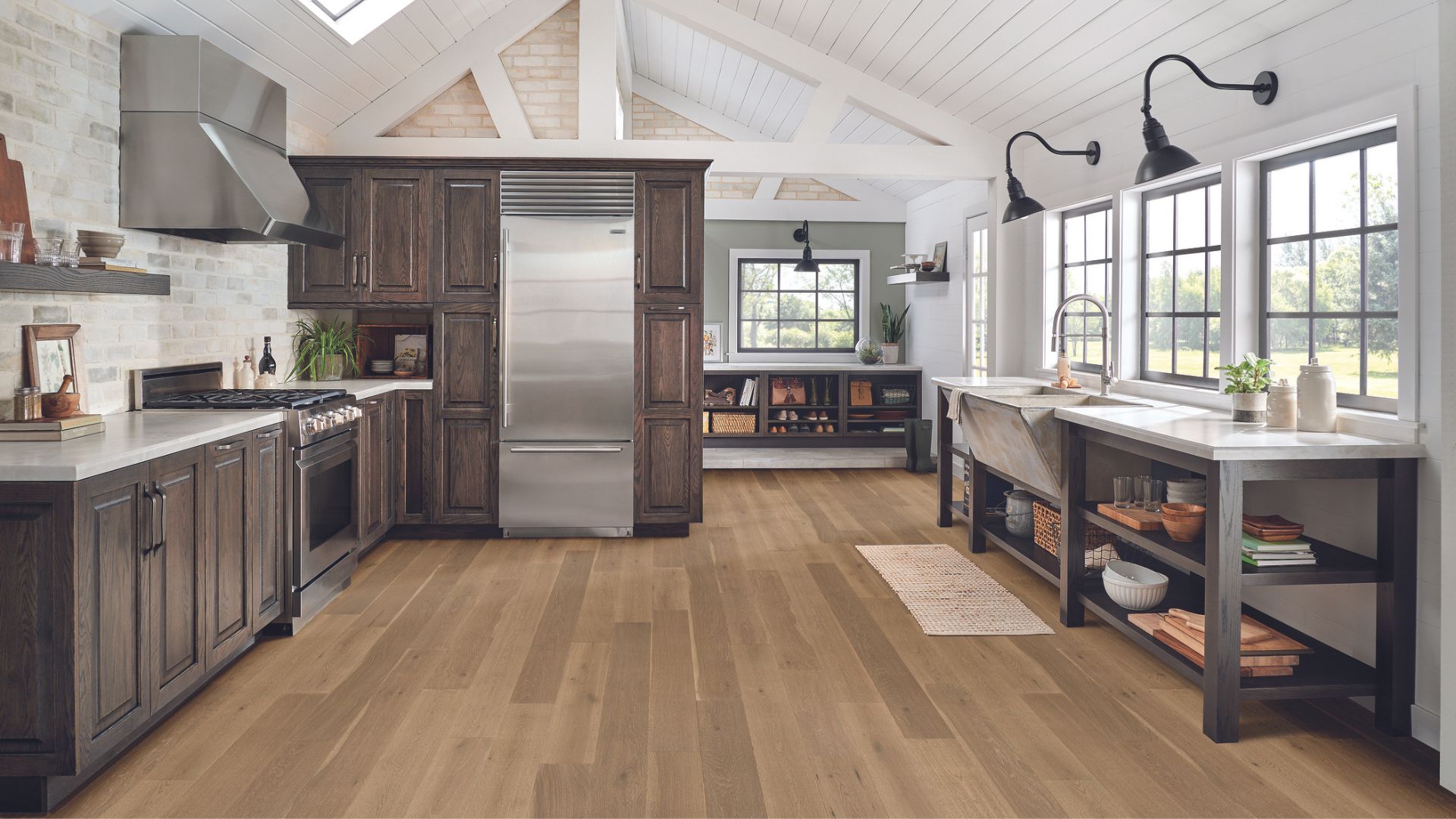 Showcase Interiors Flooring America in Rexburg, ID, transforms your residential or commercial space with exquisite laminate floors. Explore a diverse range of high-quality, budget-friendly laminate options, delivering the elegance of hardwood without the hefty price tag. Our inventory features top-tier brands like Floorcraft, Mannington, Mohawk, and Shaw, thanks to our nationwide network of 500 stores.
Count on our expert team to navigate our extensive collection of dependable, lavish flooring solutions. We offer professional laminate flooring installation services to ensure your choice is perfectly realized. With a wide array of colors and textures available, our specialists will inspire your design possibilities. Elevate your space with Showcase Interiors Flooring America.
Our Laminate Flooring Selection
At Showcase Interiors Flooring America in Rexburg, ID, we offer a diverse selection of laminate flooring types, including laminate wood flooring and laminate tile flooring.
Laminate Wood Flooring:
Emulates the timeless beauty of real hardwood.
Wide variety of wood species, finishes, and textures available.
Provides the warmth and charm of hardwood with added durability.
Easy to clean and maintain, perfect for high-traffic areas.
Laminate Tile Flooring:
Replicates the classic look of ceramic or stone tiles.
Offers the benefits of laminate, including affordability and low maintenance.
Available in various patterns and sizes to suit your design vision.
Highly moisture-resistant, ideal for wet areas like kitchens and bathrooms.
Laminate's Many Benefits
Discover the perfect blend of aesthetics and practicality with our laminate wood and tile flooring options. Explore the diverse styles and patterns to find the ideal laminate flooring for your unique needs.
Laminate flooring offers a wide range of benefits that make it a popular choice for homeowners and businesses alike. Here are some key advantages:
Cost-Effective: Laminate provides the look of expensive materials like hardwood or stone at a fraction of the cost. A budget-friendly option for achieving high-end aesthetics.
Durability: Resistant to scratches, dents, and wear, making it suitable for high-traffic areas. Laminate can withstand the demands of daily life, including pets and children.
Easy Maintenance: Simple cleaning and maintenance routines keep laminate flooring looking great. Resists staining and doesn't require waxing or polishing.
Versatile Design Options: Available in various styles, colors, and patterns, including wood and tile looks. Allows for creative and customized design choices to suit your space.
Moisture Resistance: Many laminate options are moisture-resistant, making them suitable for kitchens and bathrooms. Less vulnerable to water damage compared to traditional hardwood.
Quick Installation: Click-and-lock or tongue-and-groove installation systems simplify the process.
Allergy-Friendly: Unlike carpet, laminate flooring doesn't trap dust, allergens, or pet dander. A healthier choice for individuals with allergies or respiratory issues.
Longevity: With proper care, laminate flooring can last for many years. A cost-effective investment in the long-term beauty and functionality of your space.
Comfort and Underfoot Feel: Laminate can be paired with underlayment for added comfort and sound insulation. Provides a comfortable and cushioned surface to walk on.
Laminate flooring combines affordability, durability, and style, making it a practical and attractive flooring option for various spaces. Whether looking for a cost-effective solution, easy maintenance, or versatile design choices, laminate flooring has you covered.
Where Can Laminate Flooring Be Installed?
Laminate flooring is a versatile choice that can be installed in various settings:
Residential Spaces: Living rooms, bedrooms, kitchens, hallways, and dining areas.
Commercial Areas: Offices, retail stores, restaurants, and cafes.
Basements: Laminate with moisture-resistant properties is suitable.
Bathrooms: Some laminate types are designed to withstand moisture.
Bedrooms: Provides warmth and a cozy feel underfoot.
High-Traffic Zones: Resistant to wear, making it ideal for busy areas.
Pet-Friendly Environments: Easy to clean and resistant to pet scratches.
Frequently Asked Questions (FAQs) About Laminate Flooring
Q: Is Laminate Flooring Durable?
A: Laminate flooring is known for its durability. It is highly resistant to scratches, dents, and wear, making it a great choice for high-traffic areas. It's also relatively moisture-resistant, although it's important to note that excessive moisture can still damage it. The longevity of your laminate flooring largely depends on its quality and proper maintenance.
Q: Can Laminate Flooring Be Installed in Moist Areas, Like Bathrooms?
A: While some laminates are designed with enhanced water-resistant properties, most laminates are not recommended for areas with excessive moisture, such as bathrooms. If you wish to use laminate in such spaces, consider water-resistant or waterproof laminates explicitly designed for wet environments.
Q: How Does Laminate Compare to Hardwood or Tile in Terms of Cost?
A: Laminate flooring is generally more budget-friendly than genuine hardwood or tile. It provides the aesthetic appeal of these materials at a fraction of the cost. While the initial investment is lower, it's essential to consider factors like maintenance costs and long-term durability when comparing the overall value of laminate to hardwood or tile.
Professional Laminate Flooring Installation
At Showcase Interiors Flooring America in Rexburg, ID, we prioritize your satisfaction and the longevity of your new floors. Our recommended solution is a professional installation by our skilled team.
Once you've selected your flooring, allow us to schedule a laminate installation appointment.
Our expert installers will arrive punctually, well-equipped, and prepared to provide precision and quality.
We meticulously follow the manufacturer's guidelines and adhere to industry best practices, ensuring the protection of your floors against potential damage and extending their lifespan.
Moreover, we stand behind our services with the Ultimate Confidence Guarantee.
If there are any installation issues, our professionals will promptly revisit your home for necessary corrections at no additional cost to you.


Contact us to learn more about our laminate selection and installation services. We proudly serve customers in Rexburg, ID, and the surrounding areas.