Luxury Vinyl Flooring in Rexburg, ID
Are you in search of waterproof flooring that perfectly suits everyday living in Rexburg, Idaho?
Look no further than our exquisite collection of luxury vinyl flooring at Showcase Interiors! As your trusted Rexburg flooring experts, we not only provide exceptional products but also offer top-quality service. Experience the convenience of premium luxury vinyl flooring installations and friendly, communicative assistance throughout your flooring renovation journey. Visit our Rexburg, ID, showroom to kickstart your luxury vinyl flooring transformation!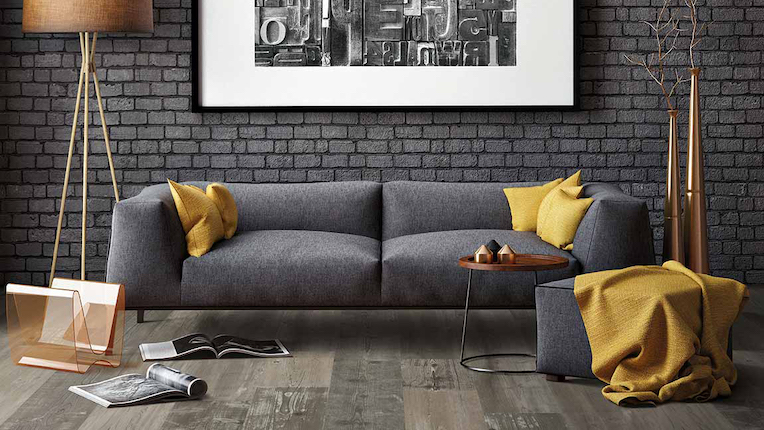 What is Luxury Vinyl Flooring Made Of?
Luxury vinyl flooring is a meticulously engineered flooring option composed of four distinct layers, each designed to combine style with hassle-free durability:
The Back Layer: This sturdy layer provides stability and protects your subfloor.
The Core Layer: This waterproof rigid core features a resilient feeling underfoot that withstands heavy foot traffic.
The Image Layer: A decorative photo layer that closely mimics the authentic look of wood or tile.
The Wear Layer: A clear protective shield that repels water, spills, and daily wear.
Types of Luxury Vinyl Floors Available
Luxury vinyl floors come in a variety of styles to cater to your preferences and needs. We strive to carry industry-leading brands known for quality and versatility in style. At our Rexburg flooring showroom, we offer the following types of luxury vinyl flooring:
Luxury Vinyl Plank Flooring (LVP): Ideal for those who desire versatile wood looks with easy maintenance and quick installations. LVP offers the timeless beauty of wood in various species, sizes, tones, patterns, and textures.
Luxury Vinyl Tile Flooring (LVT): Perfect for those who seek the elegance of stone, ceramic, or porcelain without the high costs and maintenance. LVT is a great choice for moisture-prone areas like bathrooms and kitchens.
Sheet Vinyl Flooring: Ideal for maximum waterproof durability, especially in high-moisture spaces and commercial properties. This seamless sheet flooring is a reliable choice for basements, bathrooms, kitchens, commercial spaces, and more.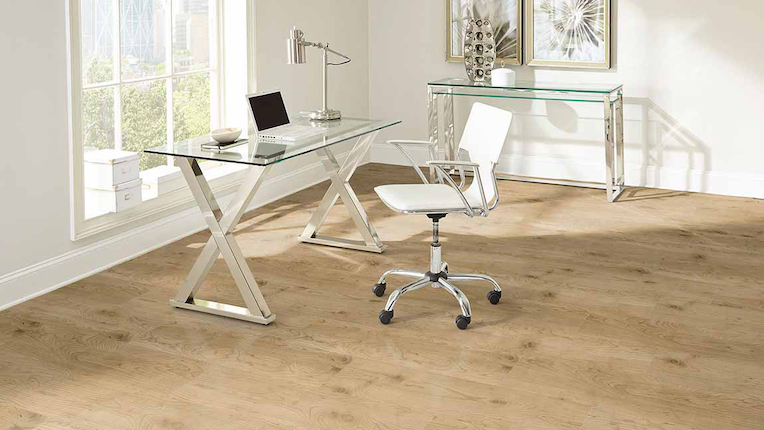 How to Choose Luxury Vinyl Flooring
At Showcase Interiors, we understand that selecting the right flooring can be a daunting task. We are committed to making your shopping experience stress-free and enjoyable. Our knowledgeable flooring experts are here to listen to your needs, consider your budget, and discuss your design preferences.
We can help answer questions such as which type of luxury vinyl suits your active lifestyle, whether you can install it over existing floors, its waterproof properties, suitability for homes with pets, and the installation timeframe. Showcase Interiors deploys our product knowledge, design expertise, and installation experience to help our local customers achieve their dream homes!
Benefits of Luxury Vinyl Floors for Your Rexburg Property
At Showcase Interiors, we understand our customers need a stylish product that can stand up to their day-to-day life. That's why luxury vinyl floors remain a popular hardwood or tile flooring alternative. Discover all the advantages of choosing luxury vinyl floors for your Idaho home:
Stunning, versatile designs that enhance your interior.
Easy care and maintenance.
Waterproof durability in high-moisture areas.
Resistance to scratches, spills, stains, and daily wear, making them pet and kid-proof.
Affordable options to match your budget.
Quick and simple installations.
Comfortable, warm, and resilient feeling underfoot, ideal for chilly Idaho winters.
Where Can I Install Luxury Vinyl Floors?
Thanks to their versatility and waterproof composition, luxury vinyl floors can be installed in various rooms in your Rexburg home, including:
Basements
Bathrooms
Bedrooms
Commercial Properties
Entryways
Hallways
Kitchens
Laundry Rooms
Mudrooms
and more!
Expert Luxury Vinyl Flooring Installations
While luxury vinyl floors feature a straightforward installation system, we recommend professional installers to ensure longevity and avoid costly mistakes. Our local Rexburg installers are equipped with the necessary tools and years of experience for a swift and precise installation that lasts by:
Ensuring the subfloor is clean and level.
Planks or tiles are measured and cut to precisely fit the room.
Planks or tiles are hand-selected based on graining patterns to offer a professional-looking design.
Each LVT or LVP fits snugly into place for a watertight, level finish.
At Showcase Interiors, we offer our Adore Your Floor Guarantee. This unique promise ensures you'll love your new floors, and we will fix or replace them at our expense in the unlikely event of any issues. When you're seeking reputable flooring installers in Rexburg, ID, trust us to deliver exceptional results every time!
Shop Luxury Vinyl Flooring at Showcase Interiors
As a locally-owned flooring store and member of Flooring America, we are committed to helping you achieve your dream home in Rexburg with quality floors. We're dedicated to ensuring the long-term success of your luxury vinyl flooring renovation while providing a hassle-free experience from selection to installation!
Contact us today to start exploring our luxury vinyl flooring options! We proudly serve Rexburg, ID, and the surrounding communities in Madison County.